Home
» About Warp Tattoo Chiang Mai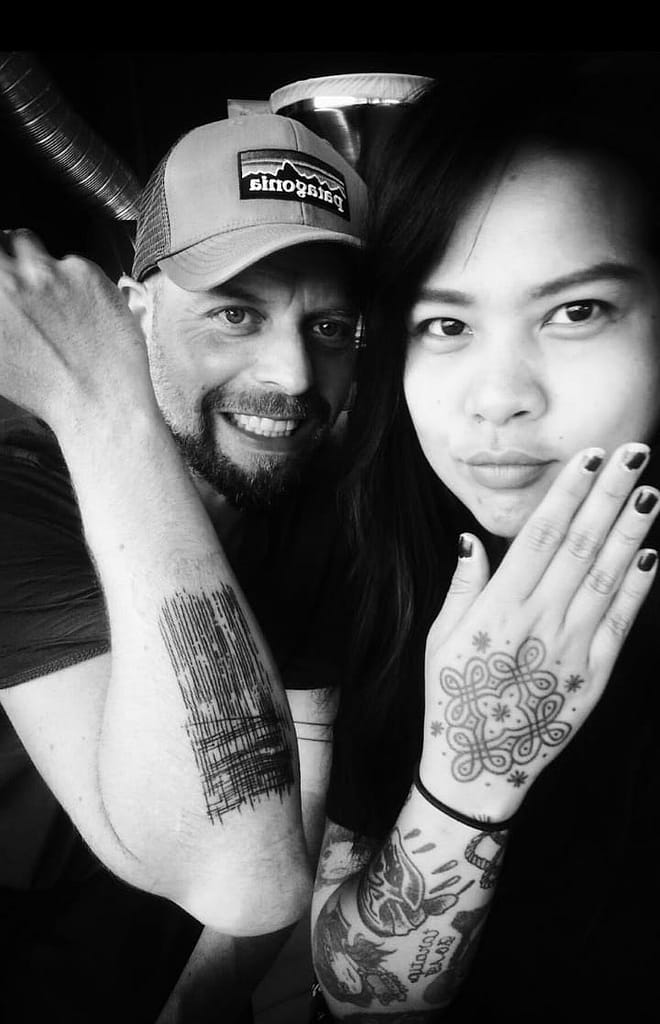 About Warp Tattoo Chiang Mai
Warp Tattoo is a Thailand / Austrian family business located in the heart of Chiang Mai.
We are Tara and Tobias, TNT an explosive combination, which is fun and exciting!
We both met five years ago and decided to interlink our professions and build a tattoo shop in Chiang Mai.
I studied Media Design so I develop the website (
you can hire me here
), take care of Social Media, whereas Tara takes care of tattoo, hygiene and finding new tattoo talents for our shop.
BTW, Tara studied fine arts in Bangkok before she started her tattoo career, so she is great at painting and creating cool custom designs for our customers.
We offer a broad variety of Tattoo Styles such as:
SAK YANT TATTOOS OR "TRADITIONAL THAI TATTOO", BAMBOO TATTTOOS, GEOMETRIC & MANDALA TATTOOS, MINIMAL TATTOOS, MINIMAL TATTOOS, REALISTIC TATTOS, BLACK WORK TATTOOS, COLOR TATTOOS, CUSTOM TATTOOS AND EVERY TATTOO YOU CAN IMAGINE.
What makes Warp Tattoo Chiang Mai special?
Austrian and Thai Management
We speak English, German and Thai
High Quality Tattoos for a decent price
Highest Hygiene Standards
Custom made designs for each customer
Great Atmosphere
Great Music
Free Water
Awesome Tattoo Artists
We love what we do!
You'll be treated as a friend
Chiang Mai Tattoo Studio
Warp Tattoo is a professional Tattoo Studio located in the heart of Chiang Mai.

If you're interested in getting a tattoo in Chiang Mai, you may be wondering why you should choose our Tattoo Shop in Chiang Mai.
We provide only the highest quality tattoos, do custom designs as you wish and offer a decent price with a great atmosphere.

We treat our customers as friends!

Our Tattoo Studio in Chiang Mai only offers the highest safety standards and clean environment. We only use disposable tattoo equipment and high quality vegan ink.